Table of Contents
Product Contents View
The Product Contents View functions much like the Files Page, except that it displays the collection of user-facing assets that belong to a specific product, rather than just the assets that are compatible with the selected object in the scene. Right-clicking an asset in an Asset View (General) and selecting the "Explore Product…" option in the context menu will cause the encompassing page (i.e., the Files Page or the Products Page) to display the Product Contents View, so that the assets that belong to that product are displayed.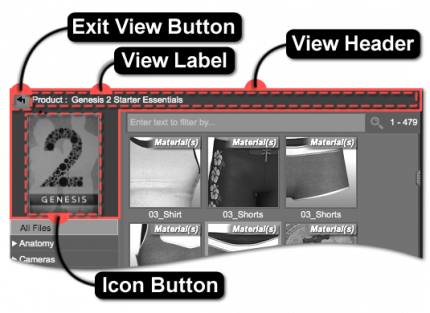 The View Header encapsulates the graphical elements that are indicative of an embedded view. When these elements are displayed, the user can be confident in knowing that the behavior of the view is in the context of a product or an asset, rather than the selected state of an object in the scene.
Exit View Button
Clicking the Exit View Button exits the Product Contents View and returns to the primary view of the hosting page—i.e., the Products Page or the Files Page.
View Label
The View Label displays the view type, followed by the name of the product.
Icon Button
The Icon Button displays the icon for the product. Clicking the button (single-click) launches the Help pane with the Read Me page for the product (for products that are provided by Daz 3D). Holding down the Ctrl/Cmd keyboard modifier while clicking provides additional Control-Freak-type options in an intermediate dialog.
This functionality is provided by a "store script" that is responsible for determining a behavior that is specific to Daz 3D products. The "store script" system/API supports multiple stores, and it is the responsibility of other outlets to provide a "store script" with a desired behavior of their own. An example script is provided in ./resources/stores/default.dsa.
Views
The two primary views displayed within the Target Assets View are:
"All Files" Filter

Categories

Filter Bar

Sorting Selector

Results
Other embedded asset views displayed within the parent page are:
Category View (General)

Asset View

Category View (General)

Asset View